A Wedding Dj Could Be Your Best Answer
You might wonder why hiring an RGV wedding dj could be your best option, and perhaps you are contemplating and weighing the options between a live band, and a pro dj.
We have been around for a long time, Dj's that is:
A disc jockey (abbreviated D.J., DJ or deejay) is a person who mixes recorded music for an audience; in a club event or rave, this is an audience of dancers. Originally, "disc" (uncommonly spelled "disque" or commonly "disk" in American English)[1] referred to phonograph records, not the later compact discs. Today, the term includes all forms of music playback, no matter which medium is used.

The title "DJ" is also commonly used by DJs in front of their real names or adopted pseudonyms as a title to denote their profession and the music they play.
Well, let me explain the difference in the minimum time possible, so that you can see which will be your best course of action. Because each form of entertainment has their own inherited benefits, and we believe that hiring a pro wedding dj could be your best bet, you might not agree with us.  Since you are here, let me you the rundown really quick.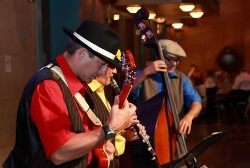 If you want to hire a live band, that plays Rancheras and Juapangos long all night because it's the type of music you like – then you have the perfect choice.  Yet, you should consider volume control, and also consider your guests, not only you, you know the guests that have been invited.  Other considerations include the lighting, the special engagement and the like.
You might also consider the break times a band takes, which, if you want to do your traditional ceremonials, it would not be a problem.  The live bands will usually play recorded music on their system that still creates a bit of havoc depending on the structure in which the reception is going to be.
Do Not Underestimate The Effect Of Music Of Your Reception
The desired tone for your even that an effective pro dj for your wedding will be instrumental for you and your guests.  Since we have authentic versions of music, better volume control and we are probably less expensive, for weddings, an RGV dj's entertainment could be the best choice.

 We offer music diversity for you and your guests

 We provide your guests an amazing time

And as experienced pro djs will play the music that appeals to your guests
RGV DJs Also Announce and Host Sepcial Activities During the Reception
I think that is one of the many reasons why couples look for a professional wedding dj that will pause or stop the music on command without the created and in-awkward moment, that entails in such an undertaking…
Better genre of authentic music for you and your guests
Noise control reduction and amplification
RGV Dj's can read the dance floor and your guess quicker – and respond
Switch seamlessly through the process
We don't take breaks like the bands do
Remember Music Variety!
Have a question or comment, do so below, we love to hear from you…Oh, and don't forget to share.  Share RGV Djs with your friends and family…